Playlist



This widget allows for playback of previously prepared multimedia content to further enhance your customer
experience. This widget c
urrently

supports playback of image slideshows or video playlists.
You can configure the playlist to play content (previously prepared under Multimedia > Playlists), and adjust how it fits in the widget container under the Adapt Mode dropdown menu.

With the FIT Adapt Mode selected, you can fine-tune the alignment of the multimedia content more, relative to the widget container.
Under the Widget Container section, you can set the Vertical & Horizontal Margins (in percentage values), and the Background Color.
Tickets List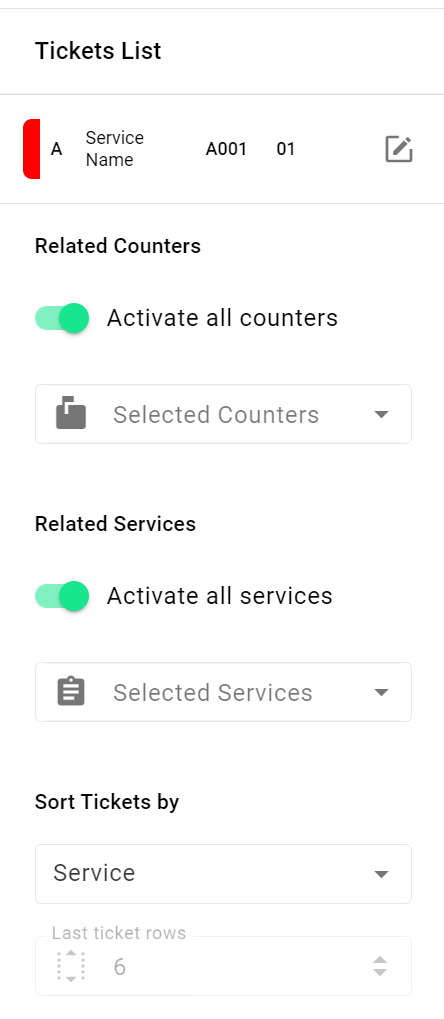 This widget allows you to display the service row for each active service related to all counters by default.
To customize the appearance and behavior of the service rows (tickets displayed), edit the ticket under Tickets List by clicking the pencil icon.
Under the Related Counters section you can choose if you want a specific counter to be used, by toggling off Activate All Counters.
It displays the last called tickets for each active service, from all counters by default.
Under Related Services, you can select which counter services to display, and which counters to activate.

In the Sort Tickets By section, you can sort by Service, Terminal, or Last Tickets. For Last Tickets, you can define the number of tickets you want to display in the Ticket List widget at any given time.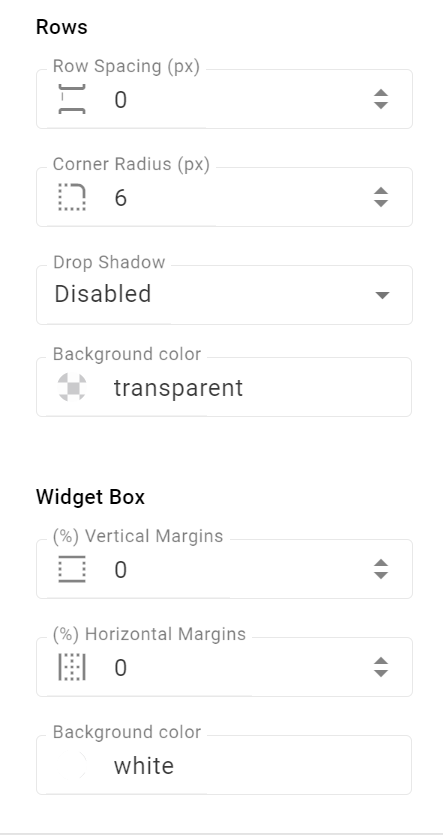 Under the Rows section, set the Row Spacing and the Corner Radius (both in pixels), enable/disable Drop Shadow Effect under each service row, and set the Background Color for the service row items.
In the Widget Box section, set Vertical & Horizontal Margins (percentage values), and the Background Color.

Tickets List Appearance



When editing the Ticket List appearance, you can customize the Service Color, Prefix, Name, Priority Ticket appearance, Ticket Numbers, and the Counter Column.
Under Service Color, enable or disable the Colored Stroke element by using the toggle. Choose to use the defined Service color, or a custom color for the services.

Under Service Prefix, toggle whether to show the element on the ticket; set the font family, weight and color; choose the background color, and you can automatically scale the ticket text using the automatic option under the Font Size Mode dropdown. Alternatively, you can set a custom font size for the service prefix.

Since the Service Name shares the same configuration options as the Service Prefix section, we will not repeat the instructions.

Under Priority Ticket you can choose to show or hide the priority icon, and you can edit the icon by setting its color, and a background color

(under Icon Color)

.
Under Ticket Numbers you can set a custom font family, weight, and color to the Ticket Number element presented in the ticket.

Choose a background color and set the font size mode, which lets you set a fixed font size, or scale it according to the widget container size.
Since the Counter Section shares the same customizable options as Ticket Numbers, we will not repeat the instructions.