In the Card Header section, you can add custom text for ticket number in the Ticket Number textbox. In the Extras section you can enter custom text for regular and priority tickets.
You can also have different text for the various buttons on the ticket card.
Presently, you can customize the Put Ticket On Hold button, and the Quit Queue button. Not shown in the picture are the Uncancel Ticket and the Press & Hold To Finish buttons.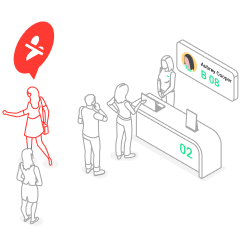 The Uncancel Ticket button is only visible when the operator cancels your ticket. It serves the purpose of putting you back in the queue and keeping your ticket.
The Press & Hold To Finish button is only visible once the ticket is finished.